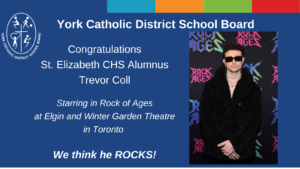 Congratulations to St. Elizabeth Catholic High School alum Trevor Coll on his ongoing success in the arts! Trevor plays the lead character, Drew Boley, in More Entertainment's "Rock of Ages" production. The show runs from February 23 to May 20 at the Elgin and Winter Garden Theatre in Toronto. Trevor and his co-stars will delight you with many amazing versions of 1980s chart-busting songs in this Broadway jukebox musical. The reviews so far have been outstanding and we couldn't be happier for Trevor!
Trevor was a St. Elizabeth's Regional Arts Program (RAP) student. This exciting program allows students to gain fantastic experience in the arts, including visual arts, drama, dance, digital media arts, communications technology, vocal music and instrumental music.  
York Catholic DSB currently offers the RAP in two Secondary schools, St. Elizabeth CHS in Thornhill and Sacred Heart CHS in Newmarket. In addition, St. Michael Catholic Academy in Thornhill offers an ERAP for elementary students. The programs are taught by qualified teachers with expertise in their respective fields. It gives students and aspiring young artists the opportunities to further their love of the arts and nurture their dreams. 
Trevor's hard work and dedication to his dreams are coming true as an artist. He has been a cast member on three TV series, including "The Listener," "Baxter" and "My Babysitter's a Vampire." He has also done commercials and is now a leading star on stage. The YCDSB would like to wish Trevor continued success and ask God to bless him always on this exciting journey.